16.09.2021
About the Constitution of the Republic of Kazakhstan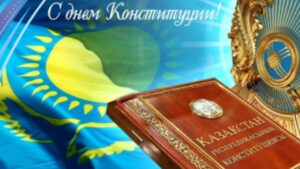 On August 30, 1995, the Constitution of Kazakhstan was adopted at a national referendum. The main document of the country reflects the will of the people, their desire to establish Kazakhstan as a democratic, secular, legal and social state, the highest values of which are a person, his life, rights and freedoms. The development and adoption of the Constitution was one of the decisive moments on the way to building the Independence of Kazakhstan.
Первый Президент Республики Казахстан – Елбасы Н.А. Назарбаев сказал: «В нашем Основном законе есть все правовые инструменты и для успешного развития, и для самообновления Нации. Мы поставили перед собой глобальную цель – к середине века превратить Казахстан в одну из 30-ти наиболее развитых стран мира на основе разработанной стратегической программы до 2050 года».
On the 26th anniversary of the adoption of the Constitution of Kazakhstan, the Elbasy Library has prepared a video clip that reflects documents and materials from the Personal Archive of N. A. Nazarbayev, reflecting the history of the preparation of the main law of the country.